The Feng Shui Test Site
---
GochiUsa? More like GochiUzbekistan because I am going to destroy Sharo's tight pussy just like how Genghis Khan pillaged Samarkand. I want to rail her senseless until she screams "TASHKENT-TE, YAMERO", as I Jizzakh deep into her. I want to fuck her until my nuts are drained dry just like the Aral Sea. I bet her snatch has been used and visited by many throughout her life, just like the ancient silk road city of Bukhara whereby many traders pass by. But despite that I still believe that Sharo is still as pure as the Amu Darya River which flows in in the Qaraqalpaqstan region of North-western Uzbekistan, and still as fertile as the Ferghana Valley which is a fertile paradise of an intermountain depression in what is an often dry part of Central Asia in Eastern Uzbekistan. I also don't mind because I love Sharo just like how Uzbeks love their pilaf, so much that they actually made the world's largest serving of pilaf weighing 7.3 tonnes earlier this September during O'zbegim, whereby a total of 50 chefs from across the country used 1,500 kilograms of beef, 400 kilograms of mutton, 2,700 kilograms of carrots, 220 kilograms of onions, 440 liters of cooking oil and 57 kilograms of salt to make the dish. I also want to do a different variant of mating press with Sharo, called "Doubly Landlocked", whereby I will dominate Sharo's tiny body on all sides, just like how Uzbekistan is one of the only two doubly landlocked countries in the world. I also want to violate Sharo just like how the Uzbek president Islam Karimov was responsible for severe violation of basic human rights through tortures and executions of prisoners.
---
The Topkek Tribune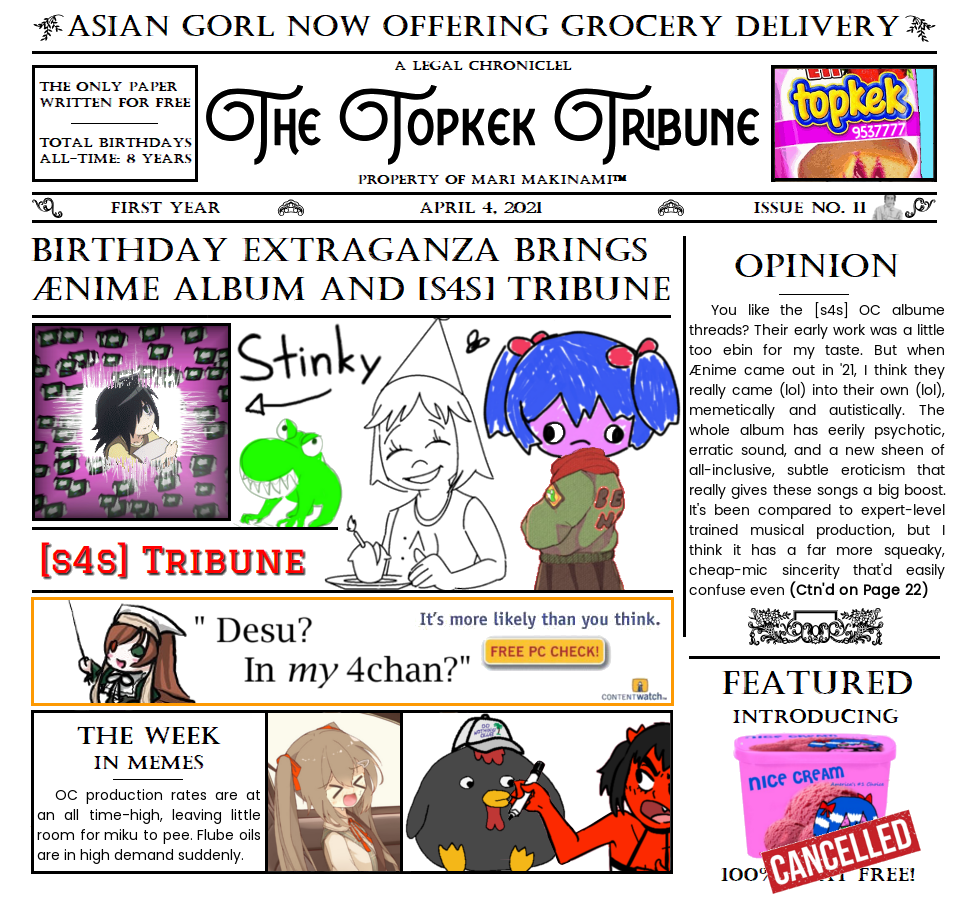 BREAKING NOW! The [s4s] Tribune returns after 6 years! Ænime, the latest [s4s] albume, reviewed! Miku couldn't hold it in anymore! [s4s] celebrates 8 years of service! Read all about it! Full story here!
---
2021-03-26 -- The Duke
Merchant of Syracuse, plead no more; I am not partial to infringe our laws: The enmity and discord which of late Sprung from the rancorous outrage of your duke To merchants, our well-dealing countrymen, Who wanting guilders to redeem their lives Have seal'd his rigorous statutes with their bloods, Excludes all pity from our threatening looks. For, since the mortal and intestine jars 'Twixt thy seditious countrymen and us, It hath in solemn synods been decreed Both by the Syracusians and ourselves, To admit no traffic to our adverse towns Nay, more, If any born at Ephesus be seen At any Syracusian marts and fairs; Again: if any Syracusian born Come to the bay of Ephesus, he dies, His goods confiscate to the duke's dispose, Unless a thousand marks be levied, To quit the penalty and to ransom him. Thy substance, valued at the highest rate, Cannot amount unto a hundred marks; Therefore by law thou art condemned to die.
---